Been rushing work for a very strict deadline this past few weeks ... Sorry for the lack of updates m(_ _)m
My head is a little tingling atm due to cold turkey sensation of sudden caffeine cutoff ~
So, my work the last one year has been primarily Japanese card game. Needless to say, they mostly came with NDA so I can't post the actual pic anywhere including here. But hey, if it's a card, chances are, somebody or I myself can just take a photo of it right? Well, that being said, most of them are digital ... mobile game mostly. Getting the pic out from internet is going to be a matter of pain and luck, I don't know if the card has been released yet or not. Getting it out of the game itself is definitely a no. Plus, the one I had been working on the most just happen to be one that the title is not even disclosed to me, so it's rather hard to check the existence for me too. Though all is not lost, some of them are rather ... easy to check and one even allow a low res posting of the pic.
The first one is
Sega's Code of Joker
, an arcade digital card game probably still only in Japan (and might never be exported). The first card I did for them was like almost a year ago and they only released it to the game very recently. So I know they have like a year worth of cards for expansion, maybe they need to tweak the gameplay before releasing or they just wait for a good timing. I did a Santa girl character on January so for sure that will have to wait until December XD. In any case, below is the picture of my only one released so far taken from their site (their cropping rather harsh if I may say). And oh, we got a video too of the character in action:
Youtube
... on the losing player =_=;
The next one is also Sega's, although probably different department. It's the normal trading card game version of
Sangokushi Taisen TCG
, so it's not the original arcade one which is probably more well known. This one I'm actually allowed to post a low res of the cards, which I will do later through the gallery. I got physical samples though

(click for larger)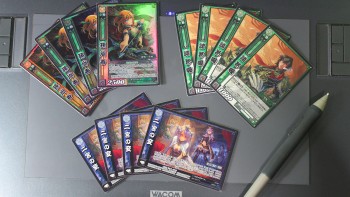 This one job always got a bad timing and considerably shorter notice than the others so I've only been able to contribute just one card every time they have expansion, which so far were those 3 you saw above. the guy (Zhuge Zhan) is from the 6th, girl on hologram bg (Sun Shang Xiang, this one SR card) from the 7th, and the landscape one (Dahu & Xiaohu) from the 8th expansion. The 9th I'm supposed to finish this month and the 10th expected somewhere ard July.
There are other cards and works in general of course, but these so far are all I can disclose, very sorry for this m(_ _)m. Atm I'm still looking for a way to paint better, faster - actually I've been wanting the faster part more. Looking at the productivity of other artists sure made me pale in comparison XD.